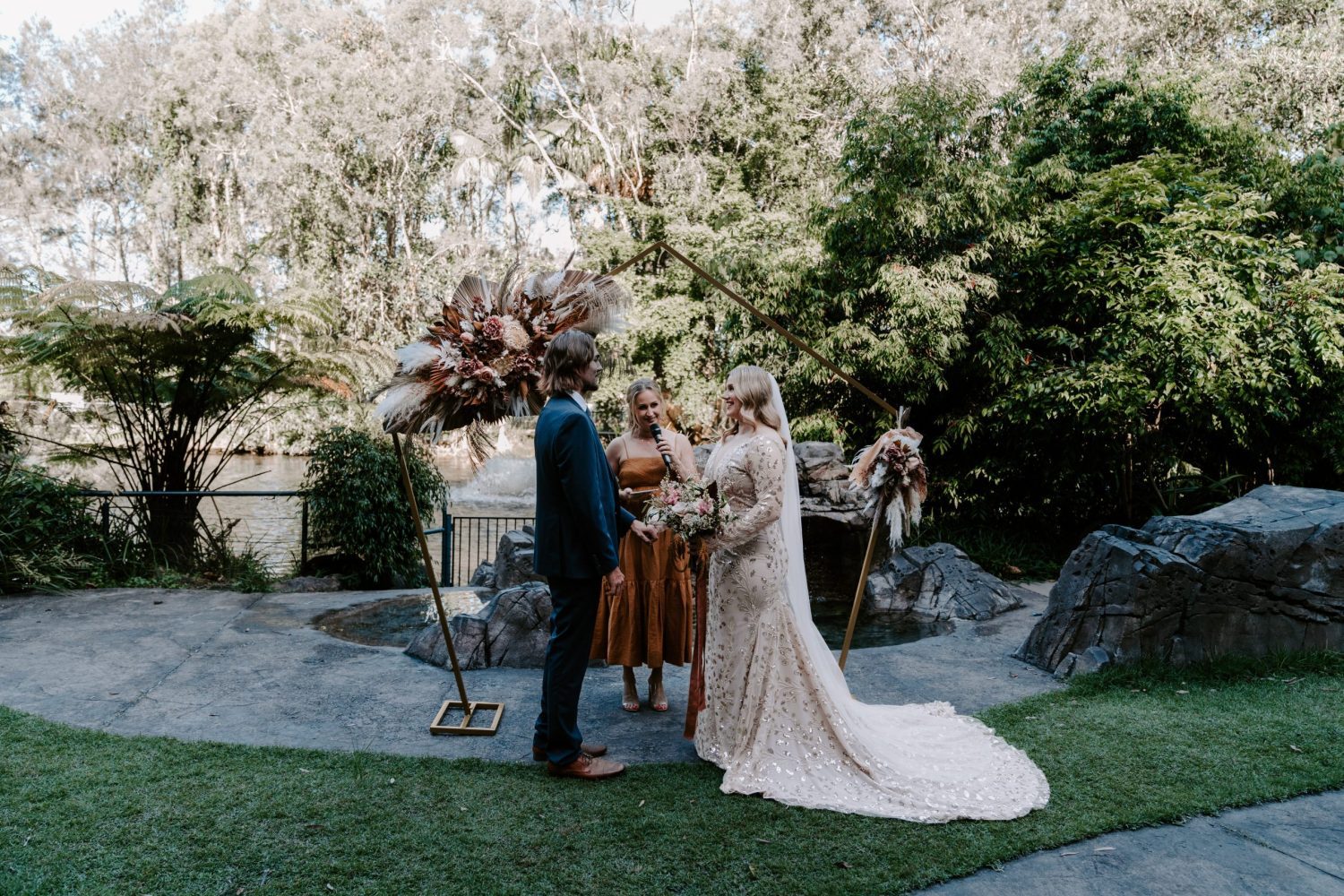 Congratulations, you've just gotten engaged! You have always dreamt of a particular backdrop for your outdoor wedding venue, whether it's by the beach, atop a hill or amongst the base of 100-year-old trees. With the beauty of the Queensland weather, more and more couples are choosing to say their 'I Do's' amongst nature and there is no better way to celebrate your day with family and friends amidst the natural beauty of the Gold Coast's outdoor landscapes.
We know it can be hard to narrow down and choose the best wedding venue for your special day, so we're walking you through some essential points to consider when choosing the perfect outdoor venue.
Does It Align With Your Vision?
Take a step back from all the excitement of your engagement and really think about your vision for your day. What does it look like for you and your partner? Are you a couple that finds peace by the sand, with the sounds of waves as your backdrop or do you love being amongst lush greenery and the singing of birds? Understanding your vision early on will help you narrow down your options and make the decision-making process a lot easier! 
Don't forget to consider your must-haves too! Do you want a private venue, where it's just a space for you and your guests or are you okay if the general public is able to take a peek? Are you looking for a venue that can accommodate your large guest list or would you prefer a more intimate gathering? Write down your absolute must-haves and this will guide your search process. 
What Are The Pros and Cons of an Outdoor Wedding Venue?
With so many outdoor ceremony and reception options to choose from, it's important to think about the pros and cons of each type of location. You may be dreaming of a beachfront wedding but have you thought about what would happen if it was a windy day or if you held your ceremony in the middle of the day? What would happen if it was predicted to rain on your special day? Think about your guests and make it as comfortable as possible for them too so they can enjoy watching you tie the knot. 
At Fleay's we have great wet weather backup options that will still ensure you have a beautiful backdrop for your wedding. We have a range of indoor and outdoor locations, all with our popular natural rainforest setting as the lush backdrop for you and your guests to enjoy. We understand that the weather can be unpredictable, so it's important to consider your outdoor location and have a backup plan just in case the weather doesn't cooperate! 
Can It Accommodate Your Guest List?
Knowing the size of your guest list is important and helps in selecting the right outdoor wedding venue. It's an absolute must that you choose a wedding venue that can comfortably accommodate your friends and family. Think about the venue's capacity and consider other factors like seating arrangements, dance floor options and other requirements.
If you have children on your guest list, think about whether there is a safe space they can enjoy, where their parents can keep a close watch but still enjoy their night. If you have older guests, ask the venue if they have wheelchair access and safer options. At Fleay's, we provide both, so your guests can comfortably move from the ceremony to the reception spaces. We also have sunshine and shaded areas so you and your guests can enjoy the day as they'd like!
Does It Have Everything You Need?
You've envisioned the perfect backdrop but there are a couple of things to consider that will make your wedding day run more smoothly. When comparing venues, think about whether or not it ticks the boxes for amenities such as restrooms and dressing rooms as these will make it a much more comfortable day for you and your guests. If you would prefer to choose your own vendors for entertainment, styling and photography, check if the venue allows for flexibility. If you're unsure and haven't thought about your other vendors, check if the venue has a preferred list as most times, their familiarity with the venue can make your day and night run a lot smoother. 
Last but not least, does it have catering options or do you have to organise it yourself? Planning a wedding can be tricky and we all know how important it is to have great food at your pre-reception and reception. Did you know that 62% of guests say that food is one of the most important things they pay attention to at weddings? At Fleay's we have partnered with Cuisine on Cue, an award-winning catering company that specialises in fresh, locally sourced cuisine for any event regardless of size, style or budget. We will work with you to bring your perfect menu to life, to ensure that you enjoy your first meal as a married couple (and your guests walk away happy)!
Visit The Space
Once you've narrowed down your options, take the time to visit the venues you're considering. Walk through the spaces, imagining how you'd like to set up the ceremony and reception. This will help you get a real sense of the atmosphere and visualise your dream wedding taking shape in that location. At Fleay's we have a dedicated wedding coordinator that will ensure you've had all your questions answered, are completely happy with the space and are there to assist with making sure the day runs smoothly.
They'll work with you on your floorplan, your guest numbers, timings and reception menu, which will help take the stress off wedding planning. It's important to get a feel for the space and take a look around some intimate spots for your wedding photos, so at Fleay's we can accommodate a private walk-through with our dedicated coordinator. To book your visit, simply send us an enquiry. If you're interstate or just want a little more inspiration, then take a look at Fleay's on Instagram, where you can take a look a just some of our beautiful outdoor spaces. 
Choosing your perfect outdoor wedding venue is a personal decision. Don't forget to pare back and discuss your day as a couple, trust your instincts and select a venue that resonates with your vision, style and personality as a couple. Your wedding day should be a reflection of your love story and the venue you choose will play a significant role in writing another chapter in your story.
Outdoor locations are in abundance on the Gold Coast but choosing the perfect outdoor wedding venue for your ceremony and reception is made just that little bit easier at Fleay's. Come and take a tour of our gorgeous, serene sanctuary, right at the heart of the Gold Coast. To book your tour or to learn more about your wedding at Fleays in 2024, click here or contact us directly here.